I see u saw my picture
CONFIRMED
VINCE TOO!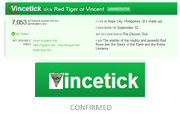 -TRS
Vincetick Wrote: Can I say something here?
Ok.
LAST WARNING
Ok, Austin, I've been trying to be merciful, but you have been abusing it! If I catch you cursing one more time, you're out for a week!
P.S. If you indeed tried to shorten the F-word in one of the threads, you will be blocked immediately.