The Ether Lord is a giant pumpkin with ghostly claws and blue fire surrounding him. He appears on the 10th level and ends up eating Big Blue in the game, leaving the Slush Fighters to destroy it to continue their assault on Big Blue.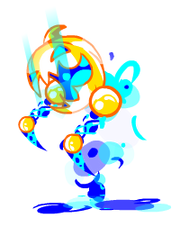 Role in the Movie
Ether Lord does not appear in the movie since he resides at Haunted Turf.
Role in the Game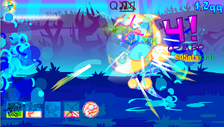 Ether Lord is a boss encountered after beating Haunted Turf. After Big Blue manages to slow himself down and the slushers catch up with him, a ghostly blue claw protudes from the ground, revealing the ghostly Ether Lord. Undaunted, Big Blue tries to punch him, only to get swallowed. The Slush Defenders then have to beat the living jiggles out of the floating pumpkin in order to continue kicking Big Blue around.
Abilities
Bonus Objective
Unlockables
Song
We Run and Fight (The Whole Song)
Disclaimer: We didn't make this; mooseymaniacdid! The articles and other things on this wiki belongs to Wikia and other respective owners.
Trivia