For the combo-extending, pale green Brian, see Stick Brian.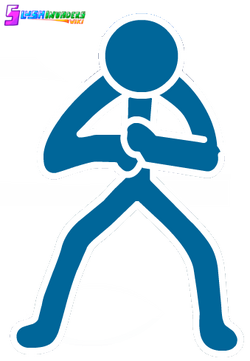 BriStick (Brian) is a dark cyan stickman with a white outline who's a member of the Slush Fighters. In the movie, he was one of the riders of Stick Waqas's rockets. In the game, BriStick is an ultra resilient fighter who speeds along the ground, sending anyone he hits flying.
BriStick gave Waqas the ready signal to launch the rockets at Slusher Wing. Along with Stickwart and Stick Dan, he flew on the rockets and landed on Slusher, where he took down a Blue after being the second one to hit. BriStick later appears to gang up on Big Blue.
BriStick is one of the fighters captured by Big Blue's men. He is rescued after beating the Bluish Fighters on NG+ mode.
Abilities
Goes along the ground and sends any ground enemies flying upon contact.
Upgrades
Damage On

BriStick now deals small damage to anyone he hits.

Speed+

BriStick goes across the screen 60% faster.

Knockout

BriStick now stuns anyone he hits for 1 second.
Unlocked by beating Moon Prison's bonus objective:

Beat the mission in 120 seconds.
Notes:
BriStick has no Ultra Attack.
BriStick, when activated, is unstoppable, so he is quite a valuable fighter if the player has to go through a stage only containing ground type enemies (e.g.: Blues, Toasters, etc.).
BriStick is unlockable during the NG+ mode of Bluish Fighters.
His third upgrade needs to be unlocked through a Bonus Objective that is located in Moon Prison.
Trivia
BriStick was eleventh in the lineup when the Slush Fighters were ganging up against Big Blue. He was captured when he was grabbed by a rope.
BriStick's powers were not introduced until the game was released.
BriStick, along with Stickwart, Stick Dan, Stickirby, and Stick Jorge, are only unlocked in NG+ mode.
He is the second Brian (possible name Brick) of the Slush Fighters, the first being Stick Brian.
BriStick was also known as Stick Brian in the animation, but was changed in the game to avoid confusion with the other Stick Brian.
BriStick's locked image shows trying to get loose from the metal straps on his arms.
BriStick (in the game) will soon graduate and leave Slusher in less than 5 years.
BriStick is the only Slush Fighter that has the first three letters of their name combined with Stick.
BriStick is roommates with Stick Matt.
In a brief moment in the movie, BriStick, along with Stickwart and Stick Dan while flying, you can see their names above their heads (Brian, Stewart and Dan) which were later seen at the end credits of the first movie.

These were most likely reused animation parts of their end credits that were eventually added into the movie, as each of the fighters have their names displayed after a short replay of their own animations during their respective sequences.

BriStick is technically the most unstoppable member of the group, before Stomar, due to the latter when doing a combo that cannot be interrupted.
BriStick is a clear reference towards Brick from the Borderlands series.

They also share the same pose.
With this being said, his real life counterpart may as well be a Borderlands fan.

In the opening sequence of the first game, BriStick was standing perfectly still when the trap door opened below him which captured the rest of the group who were behind him until a rope caught and dragged him into the bushes nearby. Naturally, BriStick should have at least reacted to the trap door but stayed still for a second until he was dragged by the rope. This is likely an error on Gildedguy's part.
Gallery
Slush Invaders Wiki Navigation
Ad blocker interference detected!
Wikia is a free-to-use site that makes money from advertising. We have a modified experience for viewers using ad blockers

Wikia is not accessible if you've made further modifications. Remove the custom ad blocker rule(s) and the page will load as expected.